The Intertops Casino $240K Winter Winnings Bonus Contest Has Arrived
It is December

2023

and winter has found its way to Intertops Casino . During this special month, and even as far as the end of January, members of this platform can participate in the $240K winter winnings bonus contest and win great rewards. Until the calendar marks the date of 29 January

2024

, 300 very active members of the casino will be able claim bonus rewards that can each get as high as $500. Other lucky players will be able to lay their hands on bonuses that drop during random draws. These bonuses are even available to them when they are just occasionally active on the platform. Members from this casino automatically receive points during those times that they are actively engaged in table game and casino slots gambling sessions on their laptops and desktops. Users who are active on the casino's mobile platform with their tablets and smartphones will also receive these points. A live scoreboard will display the point rankings of all the participating players.
Join the Competition in Order to Win the Top Reward
According to a manager of the casino, there can be an intense competition between players who participate in the contest, and that is especially the case during weekend days. Weekend players who are able to claim a higher position on the scoreboard will be able to get bigger bonuses when Monday kicks of the new week. Gamblers who manage to claim a spot in the top 20 on every single week will become eligible to participate in the final draw that puts a prize of no less than $1000 on the table. There is no wager requirement attached to this reward, so players are able to transfer it from the casino into their bank accounts whenever they want. Thanks to this exciting contest, it will be a great winter and holiday season for gambling enthusiasts. What's more, there are also other casino delights that players can enjoy during this cold but magical season. There are multiple Christmas and winter themed games already available in the game selection from Intertops Casino, and other will find their way to the casino soon.
A Winter Season Full of Exciting Slot Games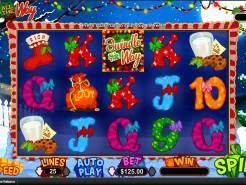 One of the recently released slot games is Swindle All The Way Slots, which is a fun to play game that features 25 winlines. Its theme focuses on two funny thieves who are on a mission to snatch away Christmas presents. Players can enjoy this game, and they can make big wins with it, because it provides them with the opportunity to win jackpot rewards. Besides Swindle All The Way Slots, casino gaming fans can also enjoy the Christmas themed games Santastic Slots, Naughty Or Nice Slots and the trilogy game set that focuses on the rivalry between Santa and the reindeer Rudolph. This trilogy consists of the games Rudolph's Revenge Slots, Santa Strikes Back Slots, and Return Of The Rudolph Slots. Slot game enthusiasts should also try the game Asgard Slots when they are active at this casino. This Viking god themed game works with the all-ways-pays feature and it provides payout doubling golden wilds. Other available perks in this game are bonus symbols, multipliers and many free spins.
Casino Fans Will Be Able To have A great Winter Season
With all these casino delights on offer, it certainly is a good idea to pay Intertops Casino a visit this winter holiday season. And those who are interested in the Intertops Casino's $240K Winter Winnings Bonus Contest can look up more details and up-to-date scoreboard rankings at the official website.